How to get fit - for Dads!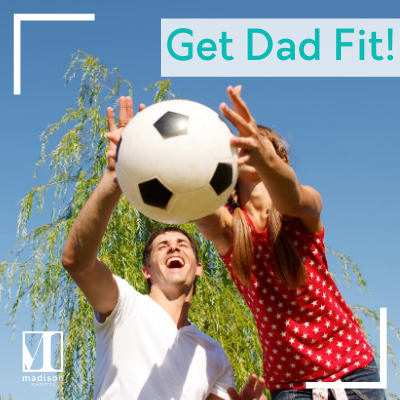 Learn how to get fit.. Dad fit!!!
By Dr Chris Scott – Chiropractor (and new Dad!)
The moment when your life changes forever. Fathering a child is certainly a milestone that will completely change your goals, and what you hold most important in life. But, has the time now come to get fit again? Read on…
Mothers to be have to undergo huge physical changes to grow their child and birth them. Certainly, their recovery period can be long and painful. They can often require particular care to get their body back to how it was before pregnancy. This is important and is the subject of other articles. This one is for Dads.
We know the needs of caring dads are also important. It is Father's Day in September, so we are dedicating this article to all the Dads out there.
During the first few months of a child's life parents suffer sleep deprivation, and a lack of free time. Necessarily the need for convenience generally pushes out space for exercise, and sometimes healthy food choices.
This may lead to lower levels of fitness and overall general health. A common question that is asked here at Maddison HealthStyle is; 'how do I drop some of those added kilos and bring back some of that early fitness that I once had?'
How to get fit – Dad style?
Starting with a goal is always the first step.
If you don't have a clear plan of what you want to do to get fit, it is unlikely you will stick with it long enough to make any long-term changes. The best goals are written down with what you want to achieve, and in what time frame.
e.g. Walk 3 times a week, for the next 4 weeks with the dog for 2 km each time, then increase the distance.
Know your limitations.
Don't expect that you body will be able to do what it did before. The best strategy is to start walking. Walking is a great starting point to reintroduce fitness into the body. It is low impact and can be modified to improve fitness at your pace. Start walking at least three times per week for at least twenty minutes. This can be increased to five times per week for thirty minutes. The speed at which you walk is also important, once you feel more comfortable increase your speed and use hills to increase the calories you burn.
Getting your metabolism firing is a crucial step on the road to get fit – more about that in a moment.
Add resistance training.
Now that your general fitness has improved by walking, the next step is to start resistance training. Sometimes, for some, this can be a little scary and confusing, but if you keep it simple, and start with one or two exercises you will quickly feel like a pro. There are many great resources out there and I think the New York Times "9 minute strength workout" does a great job in explaining home exercises that will really help to improve your strength. You can find the work out at https://www.nytimes.com/guides/well/strength-training-plyometrics.
Eat S.M.A.R.T.
The food choices that we have will always have an effect on our general health and the time it takes to get fit. So it is essential that you look at the food you eat as a means to drop those extra kilos.
A great resource written by a group of dieticians' address some common challenges. It can be found at https://www.unlockfood.ca/en/Articles/Weight-Loss/10-SMART%E2%80%9D-healthy-eating-goals.aspx.
Here they say healthy eating goals should be Specific, Measurable, Action-orientate, Realistic and Time-framed (S.M.A.R.T).
By using this four-step strategy you will be heading in the right direction to get fit fast!
If you would like to come into the practice and discuss things further please feel free to contact the clinic here at Madison Healthstyle