Bulk Billing Chiropractor - Frequently Asked Questions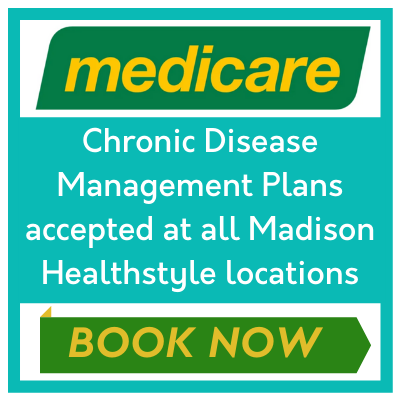 What is Bulk Billing for Chiropractic Care?
Clients may be able to access various services to assist with long standing, or Chronic Diseases – Medicare pays $54.60 towards each visit.
How do I know if I am eligible?
Your first step is to book an appointment with your GP (mentioning to reception you are looking to access a CDMP (Chronic Disease Management Plan). Your GP will determine if you are eligible and write a referral based on the assessment.
I have a referral, now what do I do?
Now you can book your appointment with your local Madison Healthstyle. Just bring your paperwork with you.
What is my out of pocket cost?
Medicare will pay $54.60 towards your appointment – so the out of pocket for a regular scheduled adjustment is $15.40. If you are new to us, the first two appointments are longer to cover your assessment and care planning – these are only $35.40 out of pocket.
How many visits can I claim?
Medicare gives up to 5 visits per calendar year for eligible clients. These refresh each year in January to help you continue your visits throughout the year. You will however need to see your GP again to refresh the care plan, as Medicare requires your GP to manage your case referral to us. We can write a recommendation for you to your GP, however it is up to your GP to determine whether you are eligible for a CDMP or not. 
What if my recommendations are more than 5 visits?
Medicare can be used to help make your care plan to recovery or maintenance more affordable. Outside of these Medicare visits, you can utilise private health insurance if you are covered for extras, or as most of our clients do, you can pay for your care plan yourself. We have pre-payment and direct debit options, as well as accepting all cards including American Express. 
Can I request my GP to give me chiro as my preferred treatment?
The decision is ultimately up to your GP, but you are most certainly able to request Chiropractic as part of your plan. Your Personal Wellness Plan (provided after your first visit with us) will outline your specific case to your GP to assist with this conversation, however if you are yet to have your Madison Assessment Protocol visit with us we can provide you with some general information to help you with your GP. 
Can I use Private Health to cover the difference that Medicare does not pay?
Unfortunately, you cannot access private health insurance for the gap when Public Health (Medicare) is paying for the bulk of the appointment. You will be able to use your private health insurance for any subsequent visits and we can process that claim on-site for you via our HICAPs terminals, and you simply pay any gap.